Explore the area
Must see attractions
Both San Martinho Beach Club and Bilene offer visitors the opportunity to experience Mozambique in many ways.
Whether you are a keen fisherman, were born for the water, yearn for adventure or simply prefer the happy-go-lucky way of life there is something for you to do.
Not to be missed
Our Top Suggestions
Turtle Cove Experience
Between November and March each year it's time for the turtles to lay their eggs. It's very interesting to see these huge creatures make their way around so remember your binoculars.
Deep Sea Fishing
Mozambique is famous for the excellent fishing spots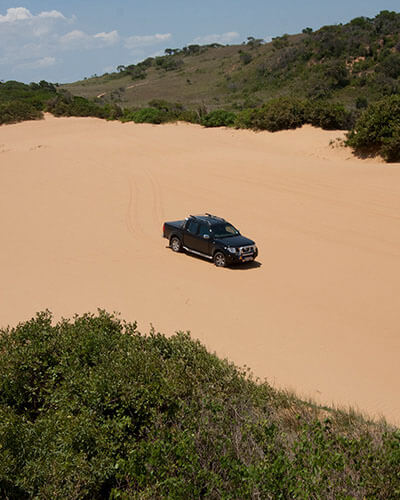 4x4 Tracks and Quad Biking
See the Bilene landscape from a different perspective.
Lagoon Snorkelling
Beautiful reefs and clear waters make this a great snorkelling destination.
Water Sports
The lagoon is a water sport enthusiast's playground. Explore the lagoon with a wide variety of water sports.
Local Market
Buy fresh fruit, bread, seafood, cold beers and unique keepsakes from the friendly locals
Turtle Cliff Trail
You will be treated to a panoramic sea view where you can spot whales, turtles and dolphins during 'whale season' (typically June to October).
Xai-Xai Day Trip
Xai-Xai is a 90 km or one hour drive from the resort. There are plenty of restaurants at the beach as well as operators offering quad bike tours and deep sea fishing.
Learn to Kiteboard
Tick an item off your holiday goals by learning how to kiteboard. It'll be an experience you'll never forget.
Lighthouse View Point
The Monte Belo Lighthouse is located atop the hill, about 3 km northwest of the Limpopo River estuary, along the trail, on the coast of Indian Ocean, Mozambique.